IRL: The Sony PXW-FS7 1.25 Years Later
IRL = In Real Life; A new occasional series (inspired by Engadget.com) on the reality of using gear or running a project or anything film related after the initial excitement has worn off.
If you haven't already read my two extensive reviews of the FS7, including test films here, and here, be sure to look at those first for more general background, other's thoughts, how it compares to the C300 and so on. This post is about the reality of the operation of the unit, 6 months in though various shoots. I'll keep this short and sweet and highlight some of the main experiences that have changed...and some that have not and probably will not. I'll first deal with rigging, then move onto firmware, then color correction/images.
Note this is an updated article that was originally written a few months after purchase, then 6 months later, then a year later. It has been updated accordingly.
Size/Weight/Rigging
The FS7 is a relatively light camera (it's no URSA, for example, thankfully). However, it's a little deeper than the C300 and the way it balances out, so it can become a little awkward to use, especially if you are not in the best shape, like me! It also can feel a little heavy once rigged up. Nevertheless, have found that it is easy to use handheld, just by putting it to your chest (with or without the arm), or on the shoulder. Ultimately, I prefer it to be on a monopod or of course a tripod.
This camera was designed to be used out of the box on the shoulder. However, it's really quite poor at that for all but the most short shoots. The reason is the camera is totally out of balance, front and side weighted, and the arm is far too short and cumbersome to use for a taller person like me. The included "shoulder pad" serves only as an emergency pad for short use and propping up against your body. And the included grip arm is poorly considered; it's too short, it takes too long to adjust, and requires at least a coin to use (!).
Luckily, there are a number of solutions for this. It comes down to getting a better shoulder pad/baseplate, and fixing that damn arm. Luckily, Zacuto, Shape, and Vocas have come to the rescue. I will detail all these parts now; all prices listed are in US Dollars:
Zacuto UNIVERSAL NEXT GENERATION Baseplate
Shown below in the pictures area is the Zacuto Universal VCT baseplate ($650). It is built like a tank. This is a great baseplate because it offers an extremely comfortable shoulder mount in it, and you can move the camera back and forth until it is perfectly balanced (around where the lens meets the camera should be over your shoulder at some point.) It also allows you to lower and raise the rods to match your camera configuration. I have attached a Lanparte dual rod rosette receiver/adapter ($35) to this so I can move the Sony arm forward if I want.
Zacuto ZMount clamp and rod
I replaced the EVF rod and clamp from Sony with a Zacuto Z Mount 2 dual clamp ($100) and 10" rod. This moves the EVF just far enough from your face to use it with the existing "tube" eyepiece, though a more ideal solution is using Zacuto's Z-finder or Gratical HD EVF. The advantage of the Zacuto clamp over the Sony one is you have two independent adjustments. This way you can quickly adjust your EVF's horizontal angle and distance on the rod without changing the overall angle relative to the camera. Or vice versa. This is a tremendous improvement as the adjustments become independent, whereas with the Sony clamp you are often left with the eve going limp or bouncing around as you try to adjust it.
Kessler Kwik release system
Since I have adopted the Kessler Kwik Release system, I have placed a Kessler Kwik receiver on the baseplate, and 3/8" plate on the bottom (which is actually a 1/4-20 and 3/8 combo) so that I can quickly mount and remove both the camera and the baseplate to/from other items such as jibs, monopods, and tripods. I now have Kessler Kwik Releases on all my tripods, cages, jibs, monopod, and slider. It makes equipment changes far faster and easier - usually drop in and click closed. On the bottom of the camera is a permanently mounted long Zacuto QR plate that also works with the Quik system.
Vocas Rosette Extender
This little device ($125) gives you a couple of extra inches of extension on the arm. It can be used with or without the Shape arm (coming next), at any angle.
ZACUTO Shoulder Pad
I also purchased the Zacuto quick release shoulder pad ($335) for times when I just want a light setup for the shoulder. This is used instead of the built in pad (which is way too far back for extended shooting), or the Zacuto Baseplate.
Watch the video above and then look at the photos below for these items in action, including the Shape items I am about to share...
Shape FS7 Top Plate
This fantastic little addition is not too expensive ($78 at B&H) but gives you many more 1/4-20 and 3/8 holes around the top of the camera, extended out a bit from the Sony Handle, but without being too big, heavy or bulky. Much recommended to mount arms, etc. when not using a baseplate. It's quite sturdy, being CNC machined aluminum. Click image to view larger. It's a very nice little addition.
Shape FS7 Remote Arm Extension
If I can say one thing it is this: Sony should include one of these with every FS7, or at least design it like this in the future. This amazing device (you can find more about it here and it is also sold at B&H for $205), replaces the portion of Sony's arm that attaches to the rosette on the camera with a far more robust mechanism. Crafted from CNC machined aluminum, It offers a large number of advantages over the standard arm:
It offsets the arm another inch away from the body. Some would argue that this actually worse, but for me it compensated for the side-heavy nature of the FS7 and added stability.
It can extend the arm about another inch (or not, depending on how you mount it; that choice is yours)
It offers a simply, sturdy hand-turnable knob screw to tighten the arm when extended - replacing the horrific dual screws that required a coin to operate on the Sony arm (WTF was Sony thinking there?)
It has a push button adjustment mechanism for changing angle. You can now literally press a button and move the arm in any angle relative to the camera body, and it does so with a rosette-style mechanism that is sturdy and solid.
Due to the offsets, you can now leave the arm mounted on most tripod heads and it will clear the head.
These are absolutely tremendous advantages. You gain a ton of speed, and a much more comfortable and adjustable arm. If you buy ONE item for your FS7, buy this! Here are some shots with the arm in various configurations, including used with the Vocas extender (as I like), with a baseplate on the tripod, and more.
Pictures of these devices in use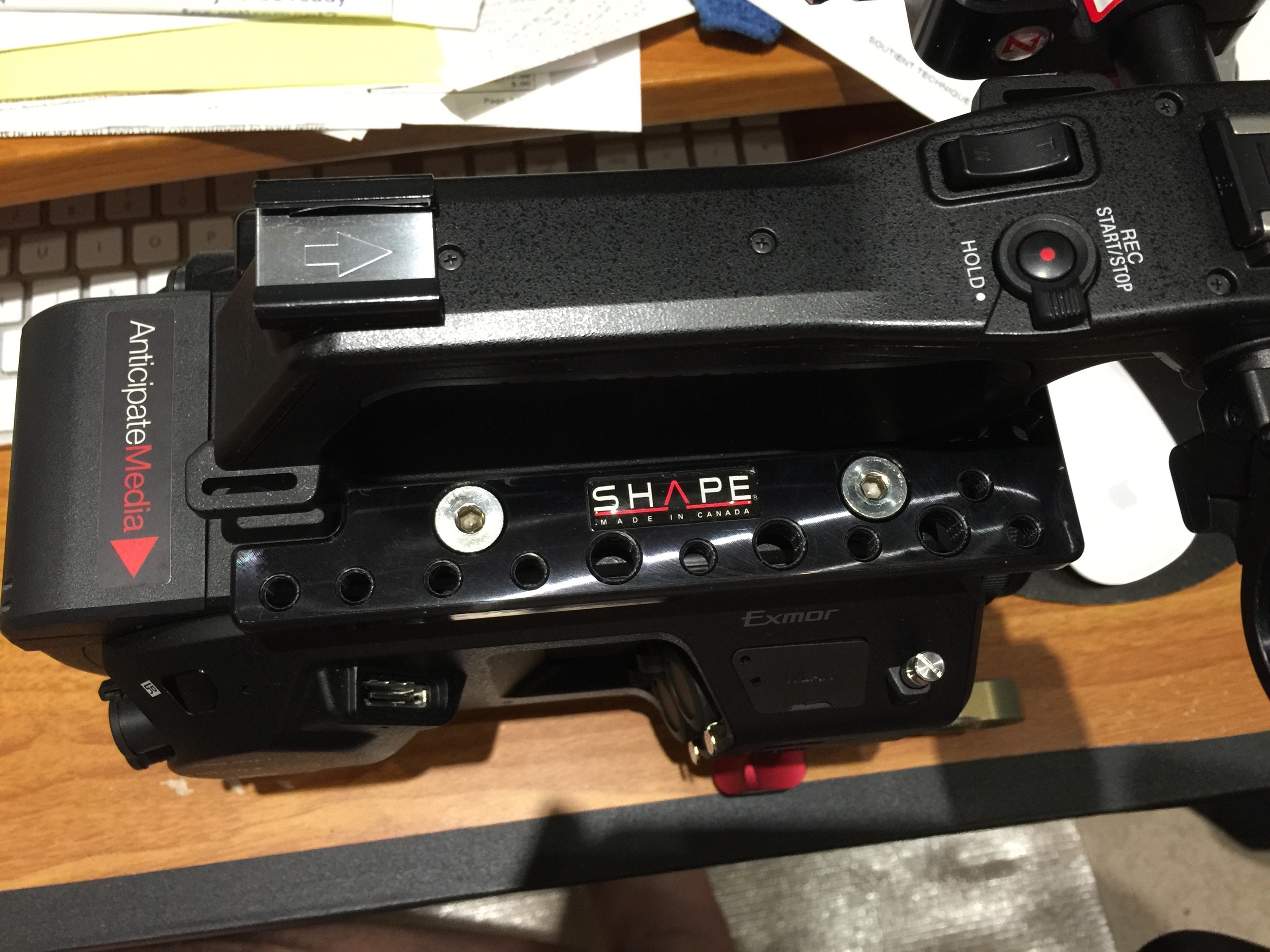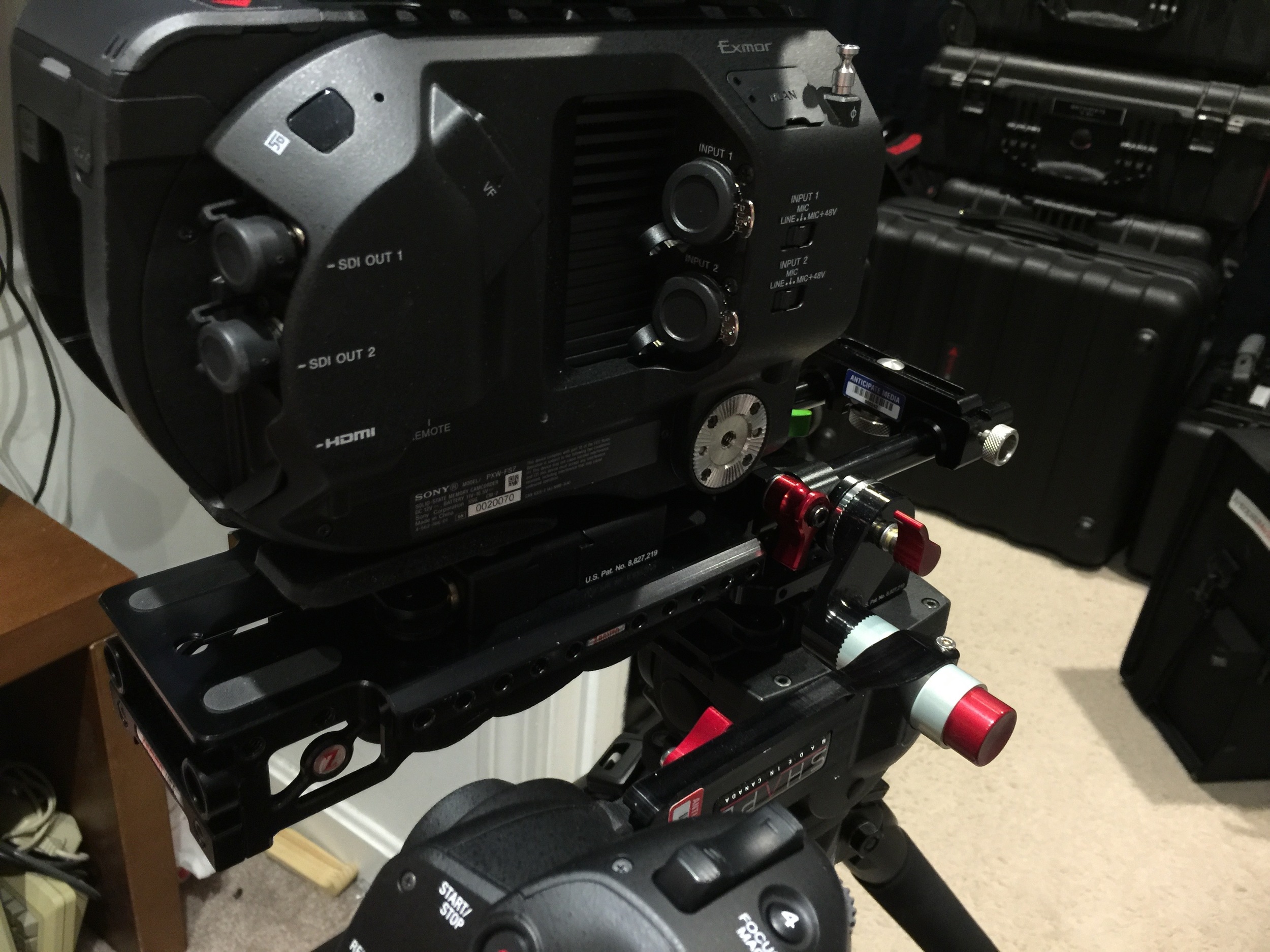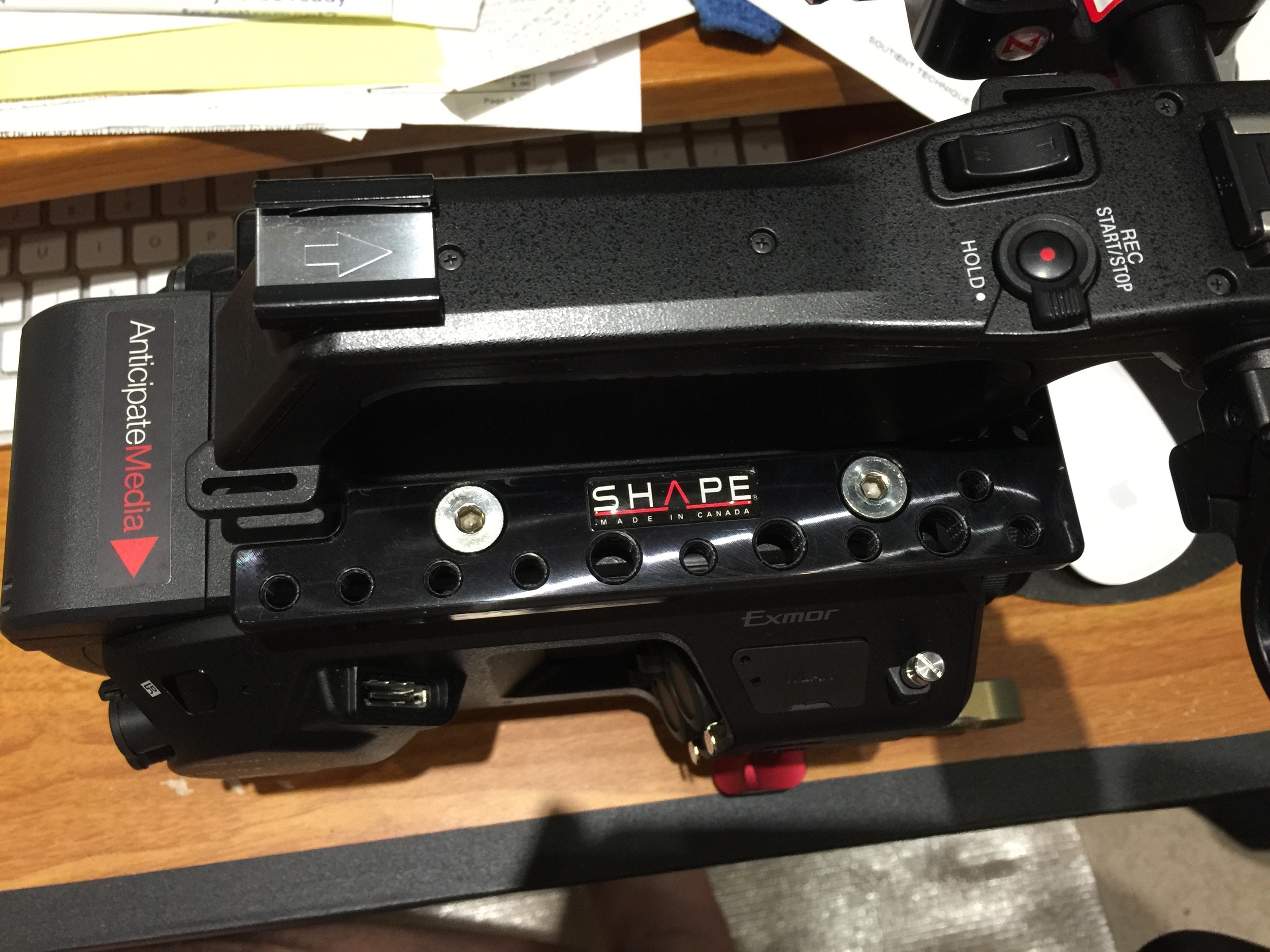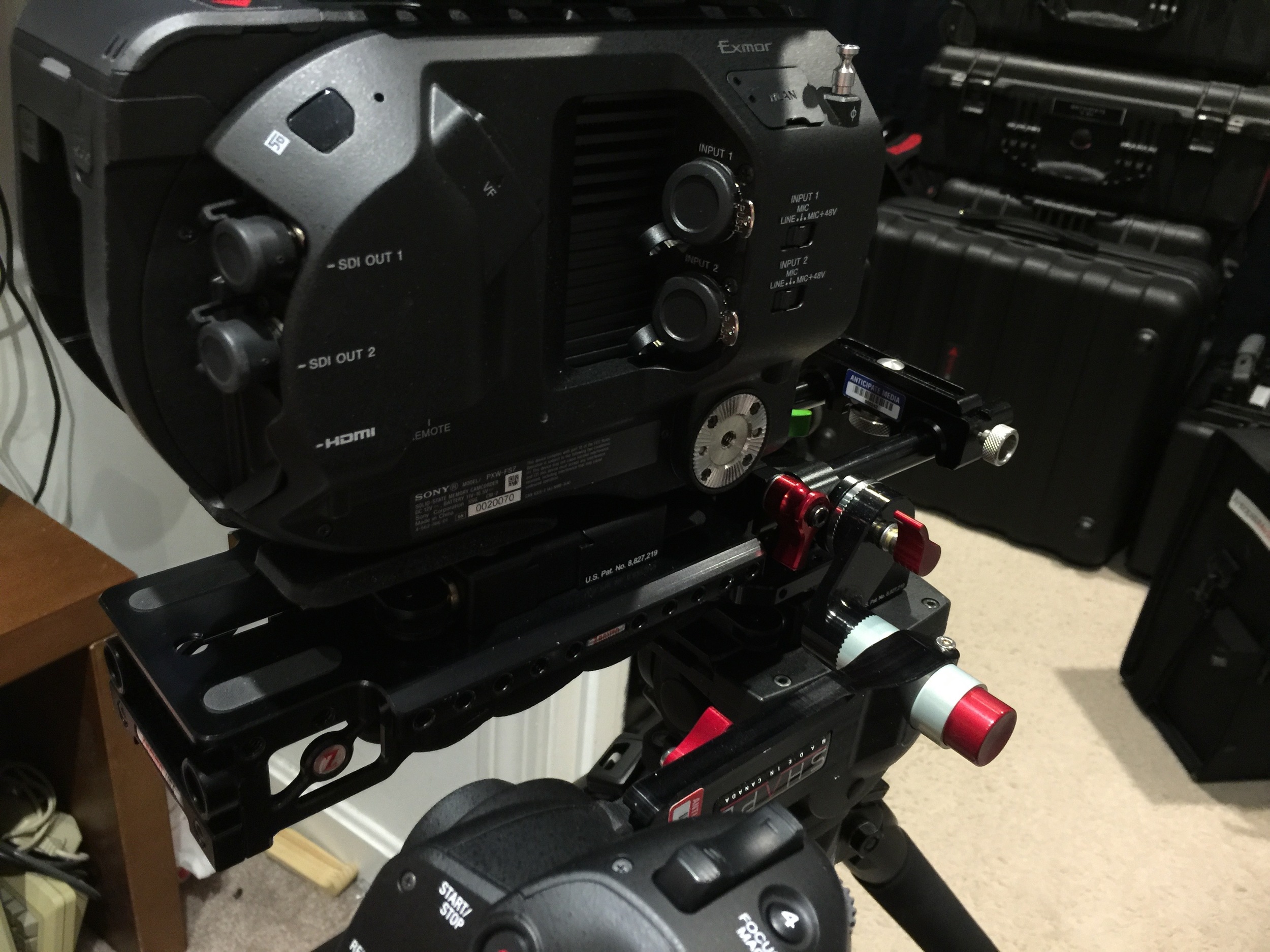 Firmware - V 2.0
If you read my previous article, you know that there have been some firmware updates for the camera. One of which, last year, added Slog2 to Slog3 already in the camera. In firmware V2.0 which was released on March 26, 2015, Sony continued improving the camera. I reset the camera, loaded the firmware, created brand new "all files" to make it clean, and started testing. The new firmware adds the following, some of which is pretty major:
Expands audio recording to 4 channels of 24bit 48KHz
Supports DCI compliant 4K (4096x2160) XAVC-I recording up to 60fps.
Adds HD ProRes recording (with XDCA add on)
Eliminates magenta color cast in WB Preset mode
Renames "Color Temp <P>" menu parameter to "Preset White"
Eliminates need to re-enable "Steady Shot" after power ON/OFF cycle.
Retains "Paint Menu" settings after power ON/OFF cycle.
The "magenta" fix is a big deal. You now have a "Preset white" function where you can dial in a kelvin temp into the preset WB slot, and it will look correct with no magenta in both Cine EI and Custom modes. The other two memory slots are for doing so via a white card. (You can also set Memory B to Auto Tracking WB.) Unfortunately, if you dial in a temperature into those memory slots manually, they still have a magenta cast. I can't fathom why Sony thought NOT to fix those two slots, but with a card and the preset slot you should be ok - you can always change the kelvin on the fly at the preset slot and it will work like most any other camera you are used to.
If you place "Preset White" in your user menu, you can effectively click once for user menu, scroll to white (hint, put it at the top of your user menu for no scrolling), then choose your kelvin. It's not as easy as the Cinema EOS two button click and turn a dial, but it's close enough now.
The 4 channel recording is very nice as well. You can now use both XLRs and assign the built in mic as a scratch/memo track on a third track. Or you can add on one of Sony's MI shoe XLR packs (the XLR-K1M or K2) that are designed for use on the A7S and other Sony Handicams to add a full additional two powered XLR jacks. This way you could have, say, two lavs, a shotgun, and a environmental track or a scratch/memo track. I already have the K1M for use on the A7S, so this is a win win for me. Very nice.
You also finally get full DCI 4k as well as the existing UHD 4K, at all frame rates. Why people reported the FS7 as never having internal; 4K until this update I don't know, UHD is also considered in the 4K family, but now you have the full DCI 4K. In practice this means a slightly wider frame with more pixels that ends up with a slight letterbox on UHD/HD displays.
Some of the settings now "stick" better like Steadyshot, and paint settings like Matrix Off actually stay that way when you change modes or reboot the camera (thank you Sony!). Sony has also been improving the stability of the camera via each new version, and this one presumably does as well as they correct numerous little bugs but don't call them out in the bullets.
Unfortunately, the menu still remains slow, and the iris wheel still takes too many turns (but both these items now seem at least bearable due to previous updates). LUT usage is still a pain and limited by the video processors on board and to Cine EI, there is no NR in Cine EI, the shutter angle may change on you without telling you to 300 when you change recording modes (though I could not reproduce), and so on.
This new firmware gets the camera at least to where it was advertised to operate when it was released, and it adds at least one bug audio improvement too. It finally feels entirely usable now, and the camera is much more capable and less buggy than release for sure, but they still need to develop it a little more.
Firmware - V3.0 (Released Feb, 2016)
Released in February 2016, we had more even updates. This was a HUGE update. The Noise Reduction in Cine EI was particularly welcome, and helps some to reduce the extra noise seen in that mode. I am really looking forward to this update. It also includes:
● Support for adjusting the Focus Magnification area position (and improving quality)
● Support for "2K Full, "2K Center" setting in Imager Scan Mode
● Support for Interval Recording function (Not supported when recording with XAVC Long interlace and MPEG2 interlace format.)
● Support for Noise Suppression setting in Cine EI mode
● Expand lowest value of Zebra level to 0%
You can read all about this firmware in this full review here. It finally fixes all major complaints about the camera and adds things like speeding up the menu system and removing the shutter angle bug, as well as even further speeding up the iris wheel. A HUGE update.
Metabones Adapters - Finally Fixed
You may recall for months that the aperture changing speed on the FS7 started off incredibly slow. It them moved to "eh, it's ok", but still quite slow. I use EF glass almost exclusively on my FS7, as it lets me use widely accepted EF glass, and also gives me a +1 stop advantage in light gathering plus a full frame aesthetic. I also use Sony Zeiss FE glass, but mostly for my A7S for stills and as a B-camera lens for autofocus, gimbal use and so on.
Native glass on the FS7 still changes aperture slowly. However with since Metabones released in June, 2015 0.41 firmware for the Metabones Smart IV and Ultra Speedbooster adapters, this has changed. Previously, "green" mode changed the f-stop quickly, but caused unusable flashes to appear. To get rid of the flashes, you had to switch to advanced mode... but then it took many turns of the dial(s) to effect a change.
With this latest firmware, this issue is solved. You can now on the FS7 (and A7S) use "green" mode, and get your rapidly changing f-stops, but see no flashes of light. The turn is just about 1:1 to iris blade changes. This is HUGE and much needed. Subsequent firmware revisions from Metabones and Sony sped this up even more, so as of March 2016 the issue is a non-issue entirely... With both adapted AND native lenses. Yay!
You can download the latest firmware here.
Color Correction/Editing 4K XAVC-I from the Sony FS7 in FCPX (and Premiere)
I recently read a tutorial about how to apply a SLOG LUT natively in FCPX. That functionality exists, but it hugely flawed. The image seems way off from reality, and you can't control where the LUT is applied; the order of operations isn't maintained. So you need a better way. I am going to focus on two workflows: FilmConvert (from Rubber Monkey Software), and LUT Utility.
First of all, I am editing with a late 2013 "trashcan" Mac Pro with 8 cores, dual D700 graphics cards for a total of 12GB RAM and 7 teraflops of power, and 64GB of RAM. I monitor now on a 27" Dell UltraSharp 5K monitor and also a cheap Seiki 40" 4K screen to try and approximate the average living room. I also use an Apple 27" LED Cinema Display to check 1080P footage. All three screens are calibrated using a Spyder 5 color calibrator.
FILM CONVERT & 3X speed increase of dual GPUs, Part 1
First of all, I absolutely find FilmConvert an essential tool. I have graded or semi-graded every piece I have released with it since after it's release. (You can get 10% off using the code "anticipatemedia" by visiting www.filmconvert.com now!).
One great thing about FilmConvert is it keeps improving, and for free. Recently, FilmConvert added dual GPU usage to it's plugin. This means that Sony 10 bit 422 XAVC native footage will play with FilmConvert corrections, grain, and film emulation applied in real time, at full resolution "Quality", at least in FCPX. This is astounding, and no other color correction plugin I have used... including Colorista III or Color Finesse, does this.
Filmconvert is great as it has a film emulation, but you can easily turn it off and just use its 3-way color correction tools for basic corrections and apply grain and exposure fixes. You can also apply additional basic plugins like gradient ND with no real slowdown. You can apply CoreMelt's TrackX/SliceX too (also just improved as of April, 2015 to be faster) to have track corrections. It's all very fast and advanced, if you don't want to really go up to the next level and use Davinci Resolve (which is basically free and also utilizes both GPUs in the Mac Pro even in the free version.)
I find the new speed of FilmConvert absolutely liberating. It has allowed me to perform quick color corrections and film emulations in real time on the fly, and has made renders 3x faster. My retina MacBook Pro no longer can keep up.
FilmConvert is a film emulation, color corrector, grain engine and somewhat of a LUT utility in one. By that I mean there is camera-specific color correction going on, which you enable by downloading free camera packs from Rubber Monkey. The Sony FS7, A7S, F55 are all represented. (Interesting note: I also use the GoPro Hero 3 and 4 presets, and the Hero 3 ProTune one happens also to work great on the DJI Inspire 1's LOG color as well.)
Initially, when loading FilmConvert over FS7 footage with the FS7 Slog3 Gamut.cine setting, I thought the colors skewed brown. White did not look white. I kept messing with this by adding colors and while I could get the image to match the out-of-camera-with 709LC LUT applied, it wasn't exact. I get better luck initially using the A7S in SLog2 and the FilmConvert preset for that.
However, while I reported this to Rubber Monkey, I don't see this as a problem. I have tried other stocks (not shown here) included with the product and they look great. You can tweak and twist to taste, and the image holds up well, so I am happy to keep using FilmConvert with my FS7 images. FilmConvert works inside FCPX, Premiere Pro, Davinci Resolve, Avid MC7, and as a standalone processor, among others. The super fast dual GPU usage is currently only in the FCPX version, but it's coming to the rest soon (they use one GPU for now.)
And as of March 2016, Filmconvert continues to be updated. In particular, camera packs are available for all the major cameras including the Sony FS5 and A7RII. And the FS7 was updated, I believe, 
LUT Utility & Color Finale & 3X SPEED INCREASE OF DUAL GPUS, Part 2
The LUT Utility available from Color Grading Central is another invaluable utility for FCPX users. This allows you to apply a LUT on an adjustment layer, so that the order of color processing is properly preserved when you add other effects like FilmConvert (for grain). I use Sony's own LUTS (specifically the Arri-like LC709A 3D LUT); you can download them from Sony here. This is a very good tool if you don't want to use FilmConvert's film look as you can use the LUT as a base and then grade to taste using color wheels; FilmConvert allows you to turn off the film emulation and just use it as a fast 3-way color corrector which is nice. That is how I use it with LUT Utility in lieu of the FCPX color board.
Color Finale from Color Grading Central is also just phenomenal, now that they added Dual GPU support on the Mac Pro. This plugin includes curves, lift/gamma/gain, vectors, and a full LUT utility in a single plugin. You can also change the order of operations. And it's very very fast on the Mac Pro, running in real time on non-transcoded XAVC-I and H.264 4K footage without issue, even on a 5K display. I am mighty impressed.
There are other fast plugins too you can use, aside from of course fully grading in Resolve (Which also uses dual GPUs on the Mac Pro "trashcan" even in the free "lite" version... which will handle 4K XAVC-I natively by the way.). I tested the newly released Magic Bullet Film, and this also runs at full native resolution speed under FCPX, which indicates to me it also uses dual GPUs. Magic Bullet Looks however does not, even in the latest version.
There are, in short, lots of fast options for grading your 4K footage from the FS7. A Mac Pro with dual GPUs (or PC) is preferred if you want to play in full speed or have multiple clips stacked. But you do the basic work on any modern Macbook Pro or PC.
The gauze of film
I recently saw a training film filmed on the Sony F55 and found it looked plastic. The color grade was unnatural, and there was absolutely no noise or grain to be seen. For such a video (it was about a shooting), the color grade seemed completely wrong.
Color grading is an art. I am not a colorist, but I have been told the way I color my films really adds positively to the feel of them. One reason I love the Sony A7S image so much (especially in 4K) is that it has a bit of natural grain, dithering, and while still very detailed is ever so slightly soft. The Canon C300 and C100 have a similar image dynamic. These three cameras have the "gauze of film" (as Shane Hurlbut, ASC once said to me.); not quite perfectly reflecting reality like the Sony F series but more analog and natural feeling, in my opinion.
Perfection of image is not necessarily a goal. This is one reason why many feature films are filmed in 4K but still finished in 2K. Blur matters. This is, to me, part of what makes an image cinematic. Other indicators are highlight rolloff (high dynamic range in the highs), grain, great skin tones, and of course selective depth of field and 24p frame rates. All of these contribute to a somewhat "dirty" look that is a story seen through the "gauze of film". The FS7 (and F5, F55), to me, do not have this "gauze" look. They can take almost clinically perfect images. They make images that look like what you see precisely in your eyes in reality, but not what you feel.
The beauty of the FS7 however is there is so much picture information in that recorded image (internally thankfully, never mind externally where you can go 12 bit RAW or extend your bitrates). You can essentially choose to make it as you wish. I have been able to add grain, push and pull the colors and exposure, and approximate a 4K C500 or Alexa image with this camera with some work. All the data is there, you just have to work it a bit. For $8k that something very special.
The Sony PXW-FS5
Since this was originally written, Sony released a $2400 cheaper "baby FS7" called the FS5, which we now also own as a B cam to the FS7. I reviewed and spoke for hours about it on the NeedCreative Brief Podcast, so I suggest you listen there.
I was one of the original people who discovered a major encoding and noise reduction bug in the FS5 which initially made it a horrible looking camera in regards to the rendition of noise, skies, and shadows. This has since been recitified, and the camera performs beautifully. 
However, while it can match fairly well with an FS7, especially when recorded externally, it is not an FS7. It lacks modes like Cine EI entirely, user selectable noise reduction, LUTs and so on. It has a very neutered internal CODEC compared to the FS7 as well, and is not a great shoulder camera (nor was it designed for that purpose). As a B camera it is great, but if you had to choose ONE camera I would definitely get the FS7. It's a far more capable camera CODEC wise (10 bit 422 high bit rate Intraframe vs 8 bit 420 low bit rate in 4K) slow motion wise (continuous, clean, and also has 60P in 4K) , ease of use (LUTS, waveforms, 4 channels of audio), and so on for not much more money. You have to add a recorder to the FS5 to get similar quality now, and that brings you almost to the same cost. And the small size of the FS5 is negated by such a recorder.
Media costs are also now way down on the FS7; Lexar 1400x XQD 64Gb cards (good for 30 min in 4K/24) are only $100 now. They were $300 for Sony S cards at the same capacity a year ago. 
The FS5 is to the FS7 as the C100 was to the C300 capabilities wise. However the price is FAR closer than it was between those cameras. Keep this in mind when deciding between the two cameras. My recommendation? Buy both, or buy an FS7 only, or an FS7 and an A7RII/A7SII and you will be happy. The FS5 by itself is a bit constrained for the price, though it does look lovely. The FS7 on the other hand is a massive deal for the price.  
Conclusions: FS7 IRL
If you read my C300 Mark II post just released, you will see I talk again about the "gear triad" of "good, fast, cheap... pick two". The FS7 is good, and cheap (relatively), but not fast. You need to add to it, to work it, to rig it a little bit. The promises out of the box weren't quite there, and the firmware needed a lot of work.
But we are now just about there with Firmware 3.0. Juan Martinez stated once in the Sony Community Forums that "The PXW-FS7 will continue to evolve gaining important creative capabilities in future firmware builds". Read that again: Important creative capabilities. That's a key statement. It means Sony is not done here. Sony is pushing the limits of cost and capability to enable more people to do better work. And they indeed have.
The FS7 is an amazing camera. There were and still remain some minor quirks, and issues, but they can be worked around. (Most were in fact addressed in Firmware 3.0) Once you do, you are still at well under $13,000 USD all in including batteries, rigging, and a lot of media. That gets you a weather sealed, handheld, shoulder mount 4K cinema documentary camera that can also function well in a more rigid production cinema environment with the big boys.
The Arri Alexa/Amira are pick up and go cameras in that you are guaranteed to get an easy to use, top notch image out of them. But there's a cost in money associated with that. The Canon C300 Mark II is be the next evolution of that at a much lower price (albeit still $16K). The Sony PXW-FS7 is the next evolution lower of that - making some now minor operability sacrifices but able to get you the exact same quality in a body you don't have to cover with foam to be able to run around with safely.
There are also other options with just as good picture quality coming out, like the URSA Mini 4.6K from BlackMagic Design (almost a year late as of March 2016!). However, there are compromises with all these options (including the FS7); the FS7 seems to have the least compromises overall. Read this detailed look from Wolfkrow for more info.
Years ago, I said on a podcast that maybe at some point we'd get "4K for free"; in that the camera would tick all the large sensor cinematic boxes and also happen to shoot 4K internally. We are there and then some... we are getting very high bitrate, high color depth 4K in the FS7 and I expect this to trickle down even cheaper devices in the near future. It is a truly great time to be a filmmaker. The tools are there... all you need to do now is focus on your clients, your story, and your soul.
The FS7 In Real Life? It's good. It's very good. It just needs a little help to get there.
Agree? Disagree? Share your thoughts below.
Disclosure: All equipment shown in this review was purchased at full price except the Zacuto items. I would not praise/falter or use these items if they weren't actually good. Zacuto items are built to last and come with lifetime warranties for non-electronic parts. I have never, ever had a Zacuto part fail on me in over 5 years.